Today, 27th September, a search engine was born. The creators Sergey Brin and Larry Page named it Google, now 13 years of age. Google was named after a Googol, the name of the number 1 followed by 100 zeros. They found the term in the book Mathematics and the Imagination by Edward Kasner. This name was chosen to represent the vast amount of information that the search engine would store. Here are some interesting facts about Google you might have not known !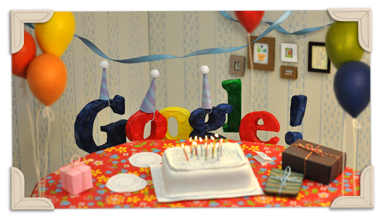 Larry Page and Sergry Brin first came up with the name Backrub which was then replaced by Google
 On 15th September 1997, Google.com was officially registered as a domain.
 The first logo was designed in a GIMP software by Sergey Brin. He added a '!' symbol as he was inspired by Yahoo!
 The first Doodle
 Craig Silverstein- First Employee
  Andy Bechtolsheim – First Investor. He wrote a check worth $100000, which I am pretty sure is now worth a million dollar or more.
 Google's First Homepage – November 1998
 Ruth Kedar, an artist and designer, designed the official logo.
 On 13th January 2003, members of American Dialect Society vote Google being the most useful word in year
 Now currently in the process of World Domination.
by Mushfique